Our CSR to the community
It was only right that we work with the most social media savvy people for our corporate video. We've always believed in providing an opportunity for young people to succeed and make a difference.
Here are the profiles of two students who worked on our video.
Profile
Li-Anne is a multi-award-winning Malaysian composer, producer, arranger and performer. She began learning the piano at 5 and violin at 8 under the guidance of her mother, whom herself was a music teacher. She graduated from Berklee College of Music with a degree in Contemporary Writing and Production.
Li-Anne has arranged for sold-out Signature Series shows like "A Night at the Opera—The Music of Queen," as well as "Bond…James Bond: Theme Songs (Virtual Concert)". Her arrangement of "Mengikat Jiwa" for the BUDAYA 2.0 Concert Series was sung by VokalMania Juara Rookie Award-winner, Aisha Retno. In 2019, she arranged for the Berklee Signature Series "Aida Cuevas Meets Berklee," featuring Grammy and Latin Grammy Award-winning Mexican vocalist Aida Cuevas, who is also known as the "Queen of Ranchera Music." She also arranged, track-produced and performed in the Berklee Virtual Commencement Concert 2021, which honoured the honorary degree recipients: Celine Dion, Donald Harrison, and Chad Hugo and Pharrell Williams of the Neptunes.
As a performer, Li-Anne was chosen to be the featured violin soloist in the 1st Edition of Young Malaysian Go Classic Orchestra. She won prizes in several piano competitions including the 14th Hong Kong (Asia Pacific) Piano Competition representing Malaysia and the 6th Roland Piano Music Festival. Li-Anne won the Best Student Performer Award during her year at International College of Music (ICOM). At Berklee, she also received the Creativity in Commercial Arranging Award, as well as the Music Preparation Award.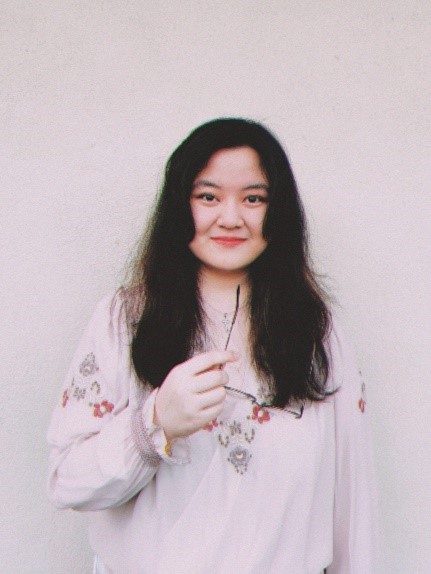 Aspiring multimedia designer, animator, and professional rule-breaker
jasmineteoh99@gmail.com
Profile
Jasmine likes using her motion graphics, animating and storytelling skills to make things move, especially the hearts of people. She's an all-rounded perfectionist that works best in critical situations.
Skills: 2D Animation, 3D Modelling, 2D Illustration, Video Editing / VFX, Motion Graphics, Sound Design, Graphic Design, Web Design, Storyboarding, Creative Writing, Information Design
Softwares: Maya 3D, Blender, Adobe After Effects, Adobe Premiere Pro, Adobe Photoshop, Adobe Illustrator, Adobe Audition, ZBrush, Substance Painter
Publications: Highlights of the Study of Sound for Animation: Designing Sound with a Low Budget, KREATE, Volume 1 Issue 1  https://thedesignschool.taylors.edu.my/Kreate/issue.html?fbclid=IwAR0WMVo27Zfpu6oW80Kaki_EMjfW0zHgPm3RI9nh2xkFqm2hsoPAt-YLozM
References
Vimeo: https://vimeo.com/jasmineteoh
Behance: https://www.behance.net/jasmineteoh99
E-Portfolio: https://jasminepicjournal.blogspot.com/